oraCle "Nuovo approccio integrato per la terapia orale del morbo di Crohn" is a project funded by the Autonomous Region of Friuli Venezia Giulia within the POR FESR 2014-2020, activity 1.3.b, aimed at studying a new integrated approach to oral therapy of Crohn's disease.
Contribution granted: Euro 877,360.29
Crohn's Disease: state of the art
Crohn's Disease (CD) is an idiopathic autoimmune disease of the digestive tract that mainly affects the ileum and colon. Symptoms (abdominal pain, diarrhoea, weight loss, flu-like syndrome) and complications, both intestinal and extraintestinal, have a serious impact on the life quality of patients, who are mostly young (10-25 years). The rate of incidence, ranging from 150 to 200 cases per 200,000 people, is unfortunately growing, especially in patients of pediatric age. To date, classical corticosteroid treatments are not able to alter the evolution of the disease, but can only control the inflammatory state. Only monoclonal antibody therapy against TNF alpha has been able to revolutionize the patients' lives, giving them however severe side effects.
oraCle
The aim of the oraCle project is to create a therapy that carries the anti-TNF alpha antibodies directly to the intestine, both avoiding patient's immunosuppression caused by the systemic exposure and maintaining its therapeutic efficacy.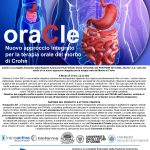 Project partners and planned activities
Transactiva Srl, a biotech company specialized in molecular farming of therapeutic proteins in plants, intends to produce the anti-TNF alpha antibody in rice seeds. The purified protein will be used in combination with the probiotic Kluyveromyces marxianus fragilis (TURVAL B0399) produced by Turval Laboratories Srl to develope an innovative oral therapy. Recent studies demonstrate that probiotics improve the digestive functions, the treatment and the prevention of recurrences in people with irritable bowel syndrome. The choice of gastroresistant capsules and excipients, essential elements for the protection of the active substances and their controlled release into the intestine, will be carried out by Biofarma Spa, a leader in the production of food supplements, medical devices and cosmetics. The University of Udine will evaluate the antibody's bioactivity, protected by different matrixes, to the chemical, enzymatic and microbiological treatments using in vitro models of the digestive system, while the therapeutic efficacy will be evaluated in vivo by the University of Trieste thanks to an animal model that mimics Crohn's disease. Further commitments of the project are the optimization of the genetic transformation techniques of the plant bioreactor and the improvement of out-of-soil cultivation techniques (University of Udine).
Project updates
4th project meeting (15 feb 2018)
3rd project meeting (12 oct 2017)
2nd project meeting (19 jun 2017)
Project start and 1st meeting (01 apr 2017)
The oraCle project approved for funding (feb 2017)

oraCle @TriesteNext2016
Press releases
Presentation at AICCRE event (19 mar 2018)
January 2018
External links
the oraCle project official Facebook page [ITA]
call POR FESR 2014-2020 axis 1.3.b [ITA]
oraCle project @ Friuli Innovazione [ITA]